READY … SET… GOLF!
"Ready…Set…GOLF! is perfect for my son, as he is getting tired of hearing this information from his Dad!" Jason Giesbrecht Director of Golf, Royal Colwood Golf Club
"Learning to play golf will change a young person's life!" Margaret Price Enthusiastic golfer and Elementary School Principal
"Ready…Set…GOLF! is packed with information all Junior golfers should know!" Dr & Mrs Randy Perwarchuk, Parents of 3 championship junior golfers!
"A must for all Junior golfers!" Kyle Long PGA Professional
FEELING NAKED ON THE FIRST TEE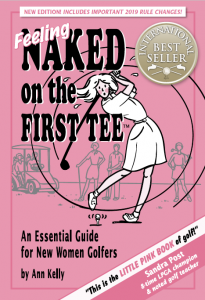 What a helpful guide! Tamntan from Los Angeles CA
A true gem of a book! Tanya from Montreal QC
Wonderful book for all levels of golfers. PJ Orgain from Chesapeake VA
Senior Saver Reviewer Gayle Wadge from Arizona Coming into the game of golf a little late in life I found Ann Kelly's book "Feeling Naked On The First Tee" a tremendous help in offering the advice and confidence booster that I needed to get started. This easy to read guide has given me the chance to prove that it's "never too late" to get out on the golf course and participate in this wonderful game!
Required reading for all new lady golfers! Reviewer: Roger Watson from Bristol, England. Picked up this excellent little book while in British Columbia as a gift for my wife. Well written and very informative for the golfing novice on the rules and etiquette of the game – a MUST for any beginner.
Don't Let The Color Fool You! Reviewer: Mickie McCune from Virginia USA Extremely well written and openly honest, Ann Kelly's book is a "must" for women (and men) of all ages, experiencing the world of golf for the first time (or first twenty-five times)! We all start somewhere in this game and whether a public course or private – the rules and etiquette are the same. Well done Ms. Kelly!
Great for Clinic Instruction Reviewer: Susan Briske from Penn Valley CA. As a member of the LPGA Teaching and Club Professional Division I have found this little pink book to be just perfect for beginning students. Thanks, Ann, for making my job easier and for making the fundamentals of getting started easy to understand for new golfers!
For Men Too!! Reviewer: Barry Dunkley from Edmonton Alberta Canada This is an excellent intro for new golfers. In addition, as a Marshall on a local Golf Course, I believe this book could and should be read by men as well. It holds a wealth of valuable information and reminders for ALL golfers to help make the game more enjoyable for everyone.