As promised …here is the chart which indicates how your body reacts to sugar!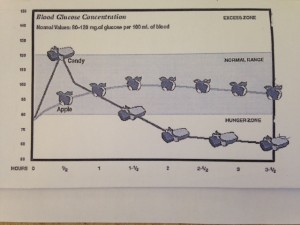 1 1/2 hours after eating the candy, your system is in the Hunger Mode….ie What is there to eat??? Whereas eating the apple has raised your blood sugar level yet has sustained it for 4 hours!
How to succeed at maintaining blood sugar levels….
Eat breakfast
No over eating or under eating
Eat every 2 – 4 hours
Exercise
Relax – manage stress
Reduce carbohydrates in the evening
Get adequate sleep
Snacks should be a combo of protein, carbs, and healthy fats.
Hopefully this blog will "speak" to you, and will help you get off the Sugar Blood Sugar Rollercoaster!
Comments – please conntact me – ann.kelly@shaw.ca